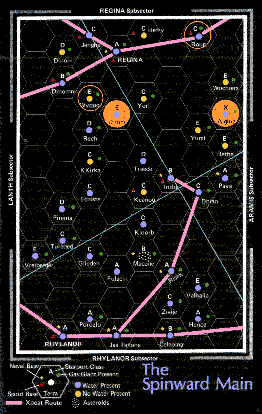 Campaign Map
The campaign takes place along the Spinward Marches known as the Spinward Main, a contiguous Jump-1 trade route which visits more than 50% of the systems in the sector.
The view covers part of the four sub-sectors of Regina, Aramis, Lanth and Rhylanor and is skewed to fit the areas of interest into a single sub-sector grid. The majority of the campaign takes place in this region.
Click the map or here for a larger version (850kB). The larger version includes UWPs for the systems displayed.