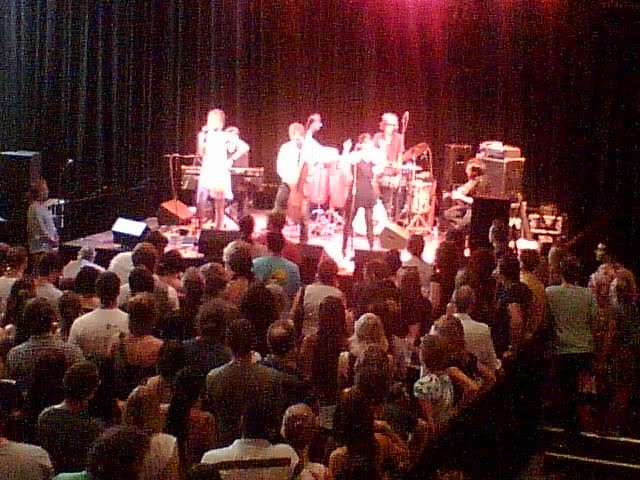 Saturday, Peter Ball and I saw Nouvelle Vague at the Brisbane Powerhouse. Wow! Does the awesomeness ever stop! If you ever get a chance to see these guys, do it.
For those who don't know, Nouvelle Vague are a French band who take punk and new wave songs (early 1980) and re-interpret them as bossa nova, the dominant hip style of the French new wave (early 1960s). "New Wave" in French is "nouvelle vague." Geddit?
Among the classics that got the bossa nova treatment were:
Love Will Tear Us Apart (Joy Division)
Guns Of Brixton (The Clash)
Making Plans For Nigel (XTC)
Too Drunk to Fuck (Dead Kennedys)
Dance With Me (Lords of the New Church)
Dancing With Myself (Generation X)
The highlight of the concert was the sweet solo guitar aria version of God Save the Queen (Sex Pistol) sung by the little French moppet, Melanie, who apologised to the people in the audience whom she singled out as having no future. "No future for you. I'm so sorry."
There were two other aspects of the concert which interested me: the audience and the support act. The audience were firmly divided into two parts. There were the hip young crowd, all dressed in an appropriated memory of 1970s fashion showing off their best tattoos. The other section of the audience were old buggers like me who can remember (just) dancing to these songs when they were first released.
The support act was Megan Washington who follows strongly in the musical family known as "quirky arts girl with a piano." Not bad. For me, her best song was the story of the last gorilla in Berlin Zoo and the woman who became his celebrity stalker of eight years – apparently it's based on a real story.